Double Happiness 囍 cufflinks are the first product line of Executive Wear NY.
Ideal gifts for a groom and his groomsmen, but can also be given separately as gifts to celebrate any happy occassion.
Each cufflink measures 3/4" wide by 5/8" tall and are available in gold plated ($38) and silver plated ($28).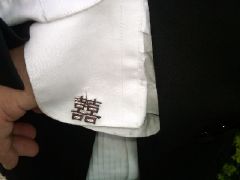 Double Happiness 囍 Groom and Groomsmen set - $108
includes 1 pair of gold plated 囍 cufflinks, for groom, and 3 pairs of silver plated 囍 cufflinks, for groomsmen.
$25 for each additional silver plated pair (for additional groomsmen, fathers, uncles, brothers, etc.)